Cycling:
Ray Marentette Receives Phil Green Recognition Award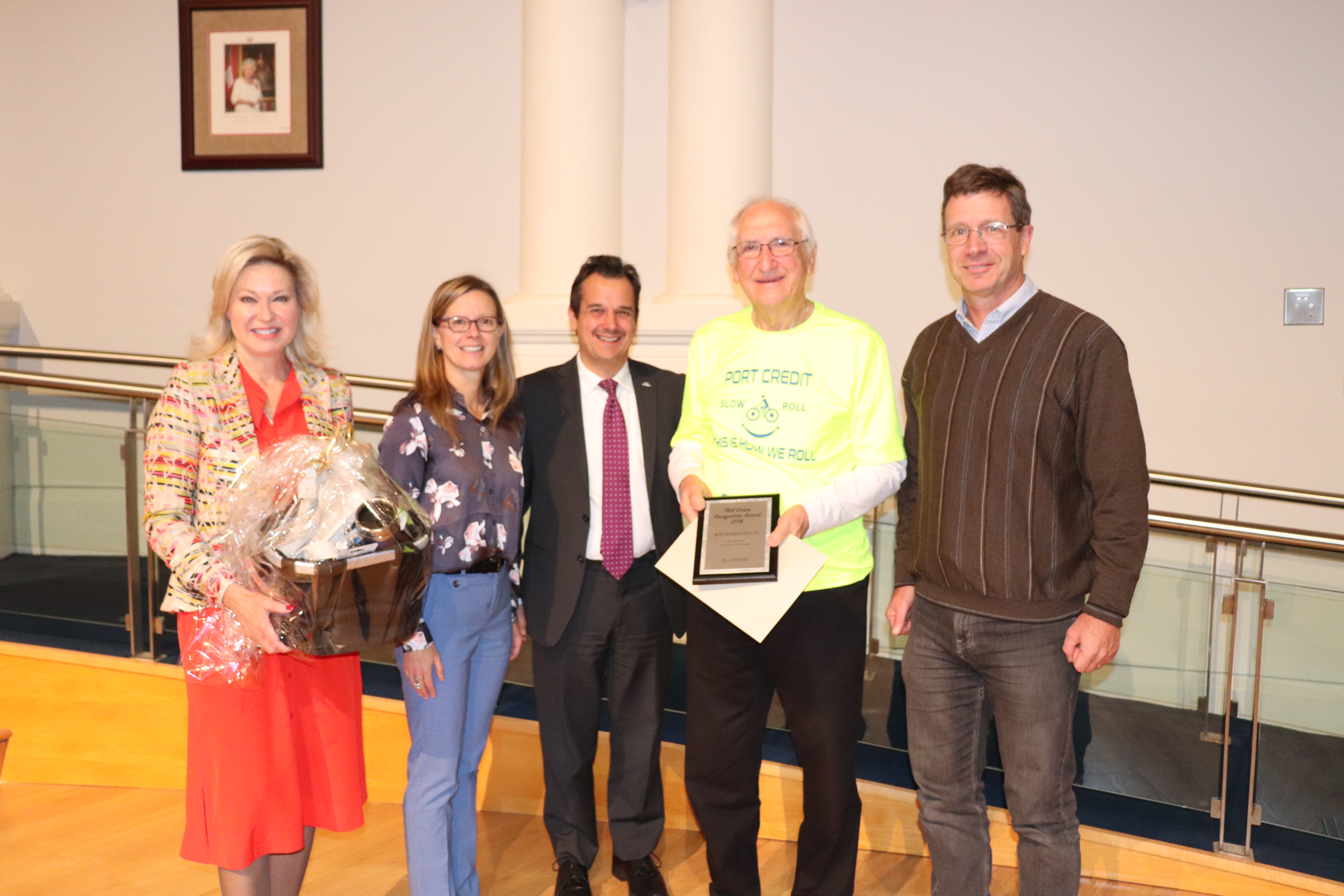 Congratulations to Ray Marentette, founder of the Port Credit Slow Roll (Facebook Group page) on his Nomination for the 2018 Phil Green Recognition Award, presented in the Council Chamber on November 13, 2019.
TOPCA has been pleased to promote the Port Credit Slow Roll schedule of free bi-weekly group bike rides over the past two years (April thru September). This award is well-deserved and we're also proud to have Ray as a TOPCA member!
We look forward to posting the 2020 PC Slow Roll schedule on this webpage!
► City Press Release (November 13, 2019): Ray Marentette Slow Rolls his Way to the Phil Green Award. Includes caption to photo.
► E-MAIL: Ray at pcslowroll@gmail.com for information about the program.
---
Port Credit Slow Roll - 2019 Schedule Complete
PORT CREDIT SLOW ROLL September 2019: A Slow Roll riding group sprouted in Port Credit last summer (2018) and it was back even stronger for 2019 based on the great turnouts! Now the series is completed and planning is starting for 2020.
Slow Roll is a global movement founded in 2010 as Slow Roll Detroit in Michigan, USA.
Port Credit rides depart at 6:30 pm during September (7:00 pm during April through August) from the parking lot at J.C. Saddington Park at 53 Lake Street (map) in Port Credit. The FREE rides average 10km. Bike lights are a necessity for riding at dusk in late August and in September.
SCHEDULE: Join the Facebook Group for updates regarding the 2020 series and other cycling info.
From the Organizers: Slow Roll is for everyone: all ages, skill levels and types of bikes are welcome. The slow pace keeps the group safe and gives riders a unique perspective of sights along the route.
SPONSORSHIP: See Berts Sports for the latest information about their support of the Port Credit Slow Roll series.
---
Copyright © 2021 TOPCA - Town of Port Credit Association. All Rights Reserved.